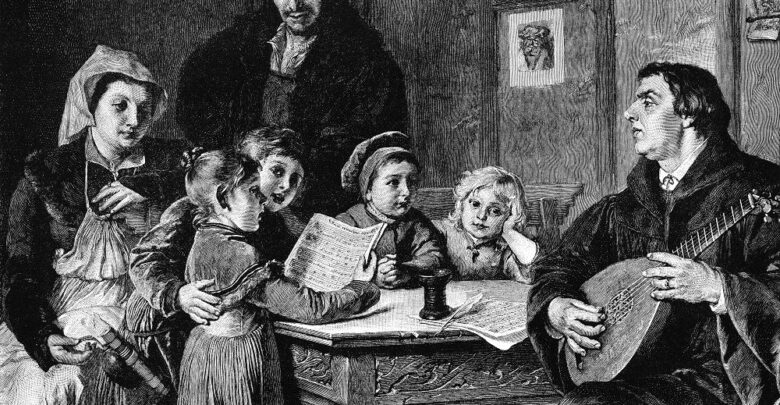 "When anyone is overcome by horror and repugnance in the presence of a sick person he should take courage and strength in the firm assurance that it is the devil who stirs up such abhorrence, fear, and loathing in his heart. He is such a bitter, knavish devil that he not only unceasingly tries to slay and kill, but also takes delight in making us deathly afraid, worried, and apprehensive so that we should regard dying as horrible and have no rest or peace all through our life. And so the devil would excrete us out of this life as he tries to make us despair of God, become unwilling and unprepared to die, and, under the stormy and dark sky of fear and anxiety, make us forget and lose Christ, our light and life, and desert our neighbor in his troubles. We would sin thereby against God and man; that would be the devil's glory and delight. Because we know that it is the devil's game to induce such fear and dread, we should in turn minimize it, take such courage as to spite and annoy him, and send those terrors right back to him…
Others sin on the right hand. They are much too rash and reckless, tempting God and disregarding everything which might counteract death and the plague. They disdain the use of medicines; they do not avoid places and persons infected by the plague, but lightheartedly make sport of it and wish to prove how independent they are. They say that it is God's punishment; if he wants to protect them he can do so without medicines or our carefulness. This is not trusting God but tempting him. God has created medicines and provided us with intelligence to guard and take good care of the body so that we can live in good health.
If one makes no use of intelligence or medicine when he could do so without detriment to his neighbor, such a person injures his body and must beware lest he become a suicide in God's eyes. By the same reasoning a person might forego eating and drinking, clothing and shelter, and boldly proclaim his faith that if God wanted to preserve him from starvation and cold, he could do so without food and clothing. Actually that would be suicide. It is even more shameful for a person to pay no heed to his own body and to fail to protect it against the plague the best he is able, and then to infect and poison others who might have remained alive if he had taken care of his body as he should have. He is thus responsible before God for his neighbor's death and is a murderer many times over. Indeed, such people behave as though a house were burning in the city and nobody were trying to put the fire out. Instead they give leeway to the flames so that the whole city is consumed, saying that if God so willed, he could save the city without water to quench the fire."
Luther, M. (1999). Luther's works, vol. 43: Devotional Writings II. (J. J. Pelikan, H. C. Oswald, & H. T. Lehmann, Eds.) (Vol. 43, p. 127). Philadelphia: Fortress Press.