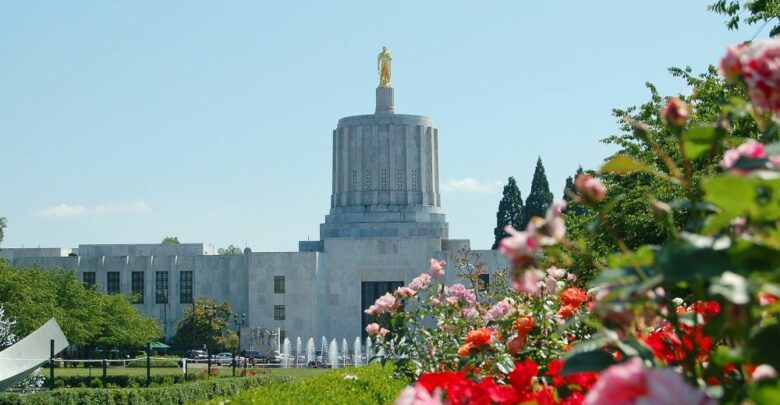 Oregon Ballot Measure 113 – Weaken Representational Democracy? NO!!
Official Ballot Title  "Amends Constitution: Legislators with ten unexcused absences from floor sessions disqualified from holding next term of office "
This Measure would weaken democracy and representative government. Here's how it would do that.  
Here in Oregon, some of our elected lawmakers have served their voters well by denying the quorum
needed to pass draconian laws such as an economy-crushing cap and trade bill. Many of them have
been thanked by their voters who then reelected them. It is the voters right to either accept or reject
such tactics at the ballot box. But Measure 113 would disqualify these very candidates from even
seeking office again, removing the voters' option to choose their own legislators. 

Our ability to elect lawmakers of our choice is a great gift from God and must be strongly defended.
Such representative government, in which lawmakers are chosen by the people, is clearly seen in both
church (Acts 6:3) and state (Dt. 16:18.)
 We owe much of our form of government to the Bible. For instance, the roots of our three branches of
government (judicial, legislative executive) are found in Isaiah's articulation of the three forms of the
Lord God's rule. In Isaiah 33:22 we read "For the LORD is our Judge, The LORD is our Lawgiver, The LORD is our King; He will save us."  

Additionally, the bicameral nature of our legislature (having a House and a Senate) is seen in the Bible.
E.C. Wines, in the twelfth chapter of The Hebrew Republic, writes: 

"The legislative assemblies, created by the constitution of Moses, were of two kinds, an upper and a lower house. The former was an elect assembly, called commonly the princes, elders, or senators of Israel, and was convened by the sound of a single trumpet. The latter was a larger and more popular assembly, called the congregation of Israel, and the signal for calling it together was the blowing of two trumpets."  
The book is filled with biblical citations. 

Pease join us in defending our great gift of representational government by voting No on Measure 113.
Paid for by Advance Liberty PAC #216, PO Box 847, Canby, OR 97013, 503-263-8337, The first $50 per person or $100 for a married couple given to us or like PACs gets you a dollar for dollar tax credit.
It costs you nothing!